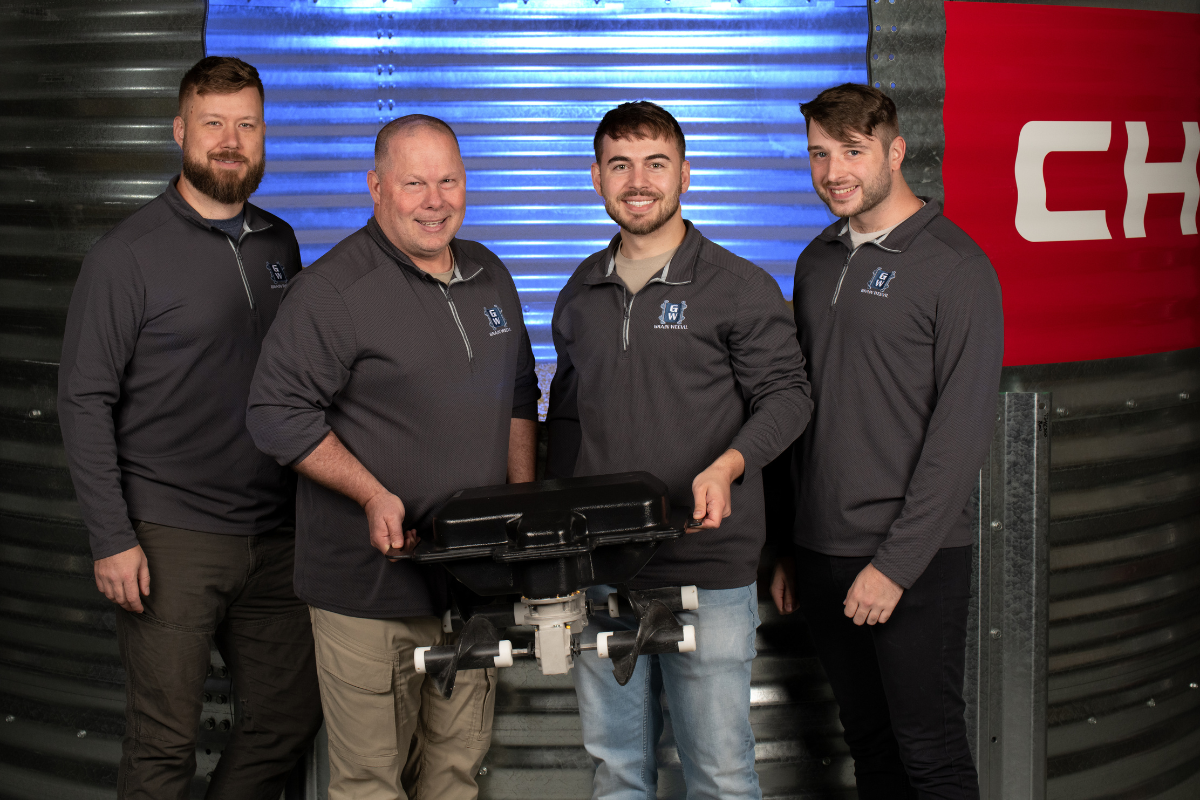 Aurora, Nebraska – An Aurora, Neb. company's robotic invention that preserves the quality of stored grain – while eliminating the danger inherent when farmers and others must work inside a grain bin – is gaining recognition and securing federal and state funding for research and development.
The Grain Weevil is a remote-controlled robot that uses augers and gravity to level grain, break crusts, conduct inspections, and feed grain into extraction augers. It is portable and, if accidentally buried, can dig itself out of up to 5 feet of grain. The goal is to robotically maintain the quality of the grain while keeping farmers out of grain bins, which can be dangerous and deadly.
The invention is the brainchild of Ben Johnson, who worked on the first versions of the Grain Weevil while he was an undergrad student at the University of Nebraska at Omaha. In the second year, Johnson was joined by his roommate, software engineer Zane Zents. Johnson has since graduated with a degree in electrical engineering and serves as Grain Weevil's chief innovation officer. Zents graduated with a degree in computer science and mathematics and is the company's lead software engineer.
The company is led by co-founder and Chief Executive Officer Chad Johnson, Ben's father. Chad has more than two decades of informal science education experience, including exhibit design, curriculum development, and program facilitation. He was a NASA MESSENGER Fellow, the Association of Science and Technology Centers' Roy L. Shafer Leading Edge award winner, and the recipient of the American Public Power Association's Energy Innovator award.
The idea for the Grain Weevil grew from a conversation between Ben Johnson and an Aurora farmer. Chad recalls the two were discussing Ben's first major robotics project. "He said, 'Hey, if you can build that robot, you could build me a robot to stay out of the grain bin,'" Chad says.
The team went to work, and after two years of trials and hundreds of hours, they finished the prototype robot.
The Johnsons and Zents consulted with the Nebraska Business Development Center (NBDC) for assistance with an initial business plan, as well as applications for grants through the Small Business Innovation Research (SBIR) federal funding program, and the Nebraska Innovation Fund.
The company also joined The Combine Incubator program based in Lincoln. The Combine Incubator hosts food and agriculture technology companies and leads them through its commercialization program, which begins with goal setting and idea assessment with a focus on pursuing capital.
In 2021, Grain Weevil received the Lemelson-MIT Student Prize, along with $10,000. Earlier in 2022, Grain Weevil finished in first place and won $50,000 in the Ag Innovation Challenge competition, sponsored by American Farm Bureau Federation (AFBF) in partnership with Farm Credit Services of America.
Most recently, Grain Weevil received a 2022 National Science Foundation (NSF) SBIR Research Grant worth $256,000, and that was coupled with a Nebraska Innovation Fund matching grant worth $100,000.
Chad Johnson says the team continues to work on several areas of development. "Our research is focusing on the tasks necessary for the robot to provide the right functions within the grain bin," he says. "It has to be able to meet a wide range of variables including the moisture content of the grain and temperatures that range from below zero to over 120 degrees.
"We also are working to develop the robot's capabilities in a very hazardous environment," he says. "If you think of a Roomba (robotic vacuum cleaner), what it does is a thousand times easier than what we're trying to do in a grain bin."
He says the team is also testing the impact of the environment within the grain bin on the Grain Weevil's mechanics. "It's not only the dust factor and what it does to the inner workings, we also have to be certain everything is spark-free."
The Grain Weevil is undergoing trials this fall in grain bins on farms in Nebraska, Iowa, and Tennessee. "Our goal is to start by providing a service to farmers while we work on certification," Johnson says. "By the end of next year, we hope to begin direct sales."
He says the mission of the Aurora-based company is simple. "No boots in the grain."
"That's what drives us," he says. "Going inside a grain bin is the worst job on the farm. We want to prevent the deaths and injuries that occur in grain bins every year, while also maintaining the high quality of the grain being stored."
Johnson credits the NBDC with supporting Grain Weevil since its inception. "We had no idea how to form a business plan," he says. "The NBDC's input and feedback with our early grants helped us build our foundation. They were there for us when we were just an idea on a napkin."
Learn more about Grain Weevil on their website.